I have to tell you a secret. My in-laws came last weekend–they're from Rochester, and wanted to miss the snow. Man, are they smart–especially given the weather forecast! So we did a mini-Thanksgiving last weekend and now I feel like all the pressure is off and I just have yummy leftovers now, and we'll do something small next week.
But I'm assuming most people are still in planning mode.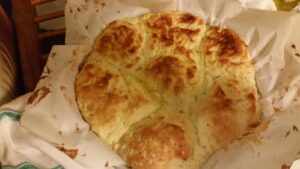 Here are some great Thanksgiving feasts, with a ton of recipes:
Remember, when in doubt, keep it simple.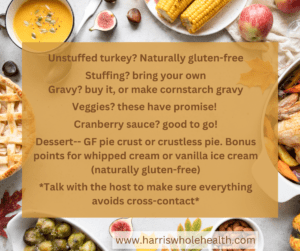 The main issue is often cross-contact, and/or people who make mistakes and really mean well. Ideally, you try to serve yourself first, with clean utensils. If there's something you know you'll want leftovers of, make sure to put it aside in a covered dish.
And because people with GI disorders are often at higher risk of food borne illness, *ahem!* a gentle nudge–here are the food safety guidelines from FSIS.
Have a wonderful holiday season.
Cheryl Harris, MPH, RD is a Registered Dietitian Nutritionist and Certified Wellcoach in Fairfax, VA.  She helps people with a range of dietary issues, including Celiac Disease, digestive issues, preventing diseases and "whole foods" eating. Let's get you on your way to achieving your goals and feeling great!  Email or call 571-271-8742.