Sunday, September 7th, 2014
G-Free Breakfasts, a Canyon Bakehouse bread giveaway and G-free News
I love the warm weather, so it's always a little sad to see September roll around. What a gorgeous summer it's been! As we head back to school or work, it's a great time to think about re-vamping your gluten-free breakfast.  We've all heard it—breakfast is the most important meal of the day, and gets us off to a good start.  We need energy to study, work, and play!  Many studies have shown improvements in concentration and learning for children who eat breakfast, and starting the day with a healthy breakfast helps adults, too.  There are great options from both the regular grocery store and specialty products.
Some of the best choices:
Greek yogurt is a great source of protein. Add in some berries and sprinkle in a spoon or two of ground flax seed or chia (Salba) to get in a little extra fiber.
Get creative with eggs: scrambled eggs, omelets, huevos rancheros, an egg bake, a  crustless quiche(great tutorial here by GFE), or even these cute little egg nests. A hard-boiled works in a pinch for an inexpensive, high protein on-the-go breakfast. Add in veggies with the eggs for a more filling breakfast with more antioxidants and fiber. Research is clear that an egg a day won't negatively affect the risk of heart disease. Of course, egg whites are always an option, too.
Smoothies are also a great way to get in some additional fruit in your diet, and most kids enjoy them, too.  Just make sure to get some protein, from Greek yogurt, protein powder or even tofu. Bonus points for throwing in a handful of spinach!
Don't forget old standbys, like cottage cheese or ricotta cheese and fruit, gluten-free free range sausage, grits, etc.
 As far as cold cereals go, nutritionally, Crunchy Flax, Whole O's and Mesa Sunrise are among the best options because all are great sources of whole grains and fiber. Van's has a new gluten-free cereal line as well, with options like Honey Nut Crunch.
KIND now has Whole Grain Clusters that are tasty and have some protein and fiber, too.
Some mainstream breakfast options are naturally gluten-free, like most kinds of Chex (not wheat Chex, of course) Sprinkle in a spoon or two of ground flax seed to get in a little extra fiber. Of course, there are more and more gluten-free versions of the typical standards. EnviroKidz has some for children of all ages, like Gorilla Munch and Koala Kids, and there are new Gluten-free Rice Krispies (watch out, regular ones have gluten) and these are in most local supermarkets.  Many stores sell gluten-free bagels, muffins, scones, waffles or other sweet breakfast treats…and see below for a raisin bread review!
Looking ahead to chilly mornings, hot cereals are a great way to start the day with fiber and whole grains.  Most gluten-free grains cook up nicely as hot cereals. In terms of taste, my personal favorite is millet, but kasha (buckwheat), quinoa flakes, amaranth, teff, etc. work well, too.  It's easy to make a big pot and have them all week long.  Bob's Red Mill has a few nice options, like Mighty Tasty Hot Cereal. Don't forget about certified gluten-free oatmeal, which can be found at specialty stores or online.
You can also think beyond usual breakfast foods for a change of pace.  Soups or any kind of leftovers work well, and you're only limited by your imagination!
Speaking of breakfast, how about some toast?  For many years, I've been hearing a lot of good things about Canyon Bakehouse Breads. When I say they've got fans, I mean, they've got some SERIOUS fans. Canyon sent me a box of breads, and offered to do a giveaway of Canyon bread products for my lovely newsletter readers. BTW–I get a bunch of offers for giveaways, and I generally decline, unless it's a product that I personally enjoy or that I get a ton of good feedback about.
One of the unique things is that Canyon Bakehouse breads are fresh when shipped, not frozen. So, I opened the box, and I was blown away by the aroma of freshly baked bread.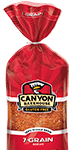 I received 3 full loves and muffins:
Since I'm allergic to eggs, I had my favorite guinea pig, Cathy, give me her views because she's a great critic, and she's tasted most of the gluten-free breads out there in her travels.
Cathy's take: All of the bread was really scrumptious. The cinnamon raisin was her favorite by far, both fresh and frozen, and as French toast, too! The taste, texture and density were what you'd expect of "real" bread. She liked the muffins, but that was her least favorite of the group because they were a bit tougher in texture. She was clear that she would enthusiastically recommend all of the Canyon breads, and loved getting to have fresh bread that didn't need to be toasted. Overall verdict: more, please!
Want to try them for yourself?
1 entry: Leave me a comment on my website and let me know what you'd make or try first if you won the box of Canyon Bakehouse breads!
1 entry: Post about this giveaway on FB or Twitter, and leave a note on my website letting me know that you did.
Please make sure you include your email address so that I can contact the winner.
Many thanks to Canyon for providing these products for the giveaway.
A winner will be chosen randomly on Sept 20th, 10pm EST.
UPDATE: THE WINNER IS JENNY, WHO SAID:
You can find Canyon Bakehouse products on Amazon, they're now at Target and MOM's, and even some NoVA area Safeway stores.
Cheryl Harris, MPH, RD is a Registered Dietitian Nutritionist and Certified Wellcoach in Fairfax & Alexandria, VA.  She helps people with a range of dietary issues , including Celiac Disease, GI issues,  food allergies, pregnancy, breastfeeding, vegetarian and vegan diets, preventing diseases and "whole foods" eating. Let's get you on your way to achieving your goals and feeling great!  Email or call 571-271-8742.
Topics:
Newsletters
|

Email This News Item