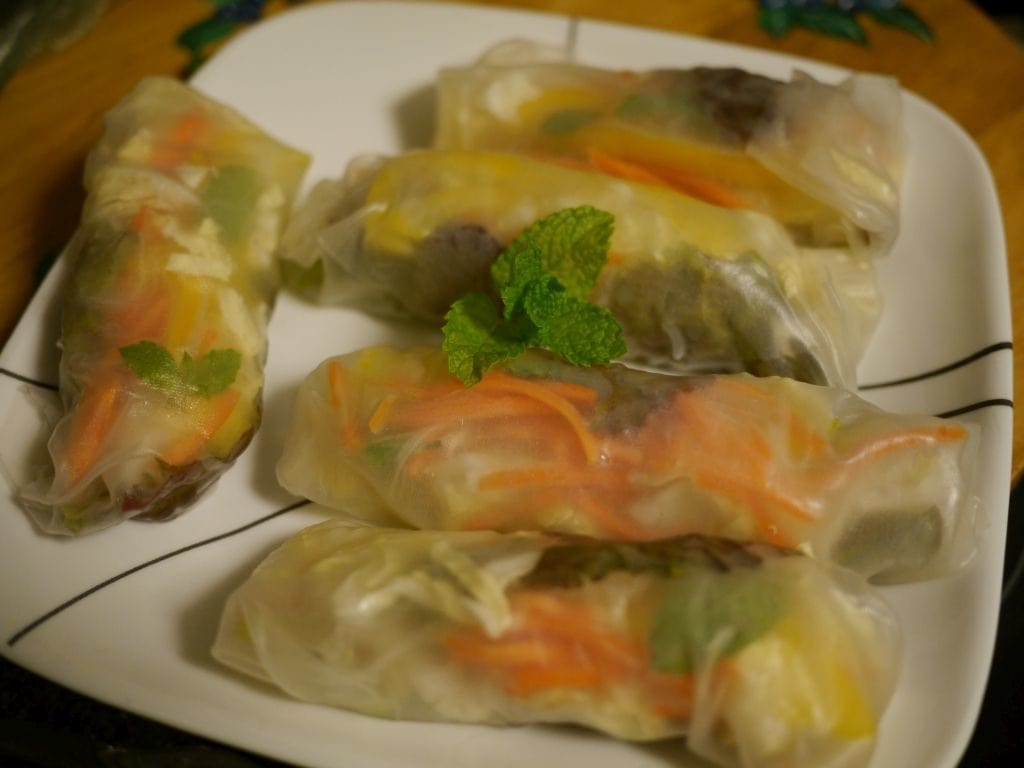 Summertime recipe, hydration & office change.
Summer rolls:
One of my long-term goals is getting my husband to eat more veggies. When we met as teens, he remarked that the only green food he liked was mint chocolate chip ice cream, so I've had lots of practice converting a non-veggievore. He's come a long way, and happily eats roasted broccoli, grilled peppers, even roasted cauliflower and a few others. But like so many picky kids and spouses, left to his own devices, veggies would rarely happen.
Summer rolls are often an easy way of getting in more veggies, and they're a lot easier than they look. There's something about the rice paper that serves as a veggie cloaking device…I don't understand it, but somehow I've consistently seen carnivores chow down on my summer rolls.
Ingredients:
12 lettuce leaves, halved
1 cup shredded carrots
about 1/3 napa cabbage, sliced very thinly
1/2 yellow, red or orange pepper, sliced thinly
1 cup bean sprouts (optional)
1/3 cup mint leaves, cilantro or basil
15 rice paper wraps (a few extra in case of mistakes)
So here's the general idea:
Have a large dish of warm water and all of your veggies arranged. Put the rice paper in warm water for ~15-20 seconds. It should be firm, but not mushy.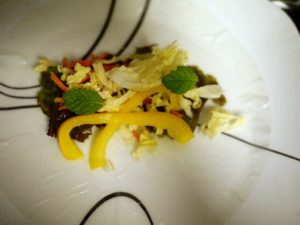 Fish out your rice paper and arrange it on the plate.
Put down the lettuce leaf and add a little cabbage, carrots, pepper and herb of choice.
If you overfill, it won't close. Less is more.
Roll up! If the paper rips, you can double wrap.
That's it! Chopping the napa cabbage is the most time consuming part, and start to finish, this recipe is just 30 min.
Gluten-free, vegan, FODMAP friendly. Good stuff. I serve it with peanut sauce or another dipping sauce.
Is hydration a challenge for you during the summer? In addition to adding fruits or mint leaves into your water, consider adding in more hydrating fruit and veggies. A few good ones:
Many veggies and fruit can be a great source of hydration, including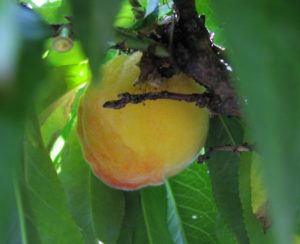 Cucumbers
Lettuce
Zucchini
Radishes
Celery
Tomato
Cabbage
Peppers
Strawberries
Watermelon
Grapefruit
Cantaloupe
and my personal favorite for today, peaches!
As we're talking about veggies and fruit, here's an article on buying organic on a budget.
Change in the air…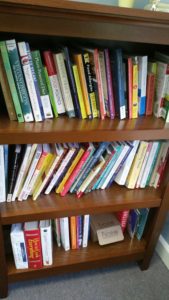 As of Sept 1st, 2017, I'll be only seeing clients in my Fairfax office, 9675 A Main Street.
I've enjoyed working in Alexandria for the past 10 years, both on Duke Street and in Kingstowne. When my husband and I moved further west, having two offices seemed like a good temporary solution, and the plan was to stay a year or two. Six years later (how does time fly so quickly?), it's finally time to move to Fairfax full-time. After juggling two leases, managing requirements for two tax localities, sending out two different sets of directions and still having some clients end at the wrong place, and making sure the right folders in the right spot, I'm looking forward to the simplicity of this change.
The Fairfax office is right on Main Street, across from Woodson High School, and about 3 miles from 495. I've got an overflowing lending library, and I love the spot.  It's a great place for nutrition sessions.
So…I will be in the Alexandria office through 8/31/17. if you're hoping to get a time slot in at the Alexandria office, please drop me a line ASAP. And I look forward to seeing many of you in Fairfax.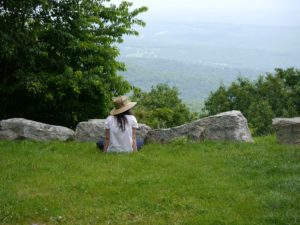 Last but not least, Summertime always flies by for me, and I hope you get a chance to get away and savor whatever most delights your heart.
Cheryl Harris, MPH, RD is a Registered Dietitian Nutritionist and Certified Wellcoach in Fairfax  VA.  She helps people with a range of dietary issues, including Celiac Disease, GI issues, food allergies, pregnancy, breastfeeding, veg/vegan diets, preventing diseases and "whole foods" eating. Let's get you on your way to achieving your goals and feeling great!  Email or call 571-271-8742.