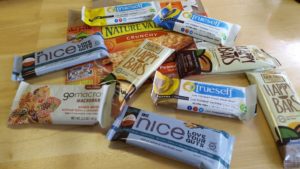 As many of you know, the world of low FODMAPs is ever-evolving. Here are tips for sprouting garlic (which you can do right now in the Northern VA area!), some new low FODMAP bars, and a few interesting studies related to a low FODMAP diet.
Low FODMAP Bars:
Most granola bars or protein bars have inulin, honey, dates, or and a bunch of other no-nos. The easiest to find low FODMAP bar is Nature's Valley PB bar, or the Almond Crunch. Trader Joe's has started carrying Go Macro bars..So if you can find one of these with just rice protein, great. Bobo's Oat Bars has several flavors with FODMAP friendly ingredients, such as the original, coconut, chocolate chip, PB, maple pecan, and others.
But there are some newer bars that you can get online. TrueSelf Foods just launched a line of bars that are tested as low FODMAP, with flavors like blueberry, pumpkin spice, lemon poppy, etc. Rachel Paul Foods also has "Happy Bars", with fun flavors like Chocolate Orange Ecstasy, Peanut Butter Pleasure and more. Nicer foods has PB and chocolate chip bars (bonus–you can get them on Amazon, too) and lots of other great low FODMAP options, like barbecue sauce, salsa, etc.
I haven't yet gotten a chance to try all the bars, but from a nutrition perspective, the Happy Bars and Nicer foods bars are higher in protein, so they're better suited for holding you over a longer period of time.
Miss garlic?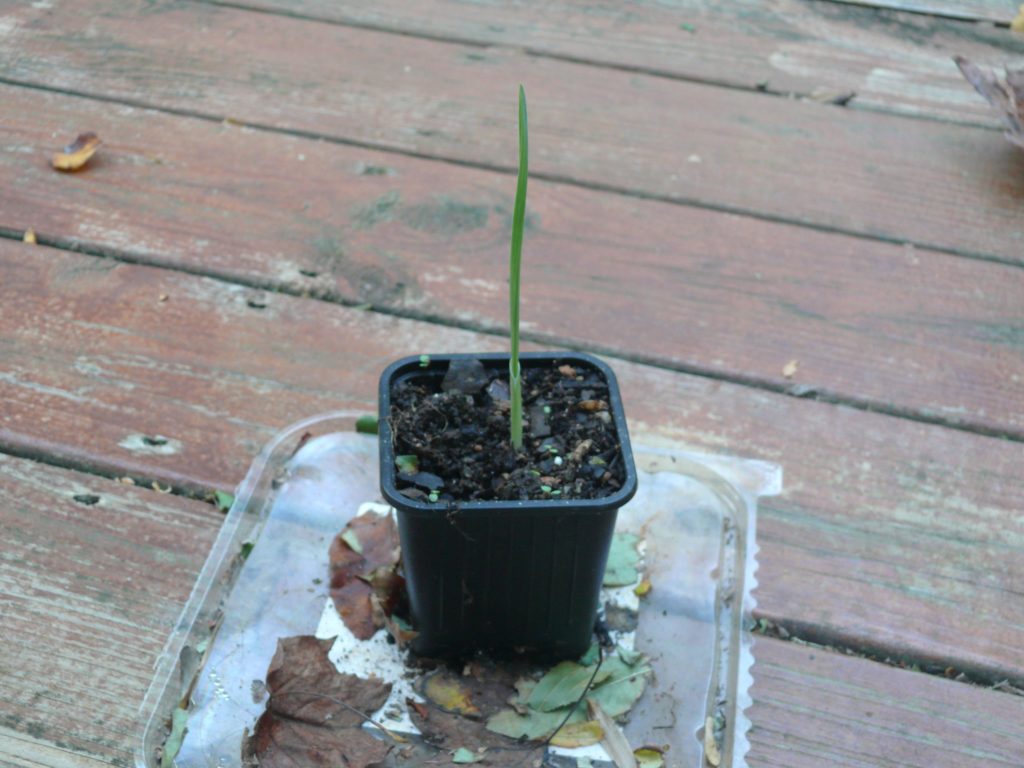 You're not alone. For many of my clients on a low FODMAP diet, missing garlic is the biggest complaint. Sure, there are scallions and chives, and garlic infused oil, but…there's nothing like the real thing!
The good news is that you can sprout garlic pretty quickly and use the shoots the same way you might use scallion tops. Monash hasn't tested garlic sprouts yet, but similar foods, like the green parts of scallions and leeks are usually well-tolerated, so it may be worth giving this a go if you miss your garlic! It's easy to do now, even if you don't have a lot of space or light.
I sprouted these in a few weeks in a tiny pot on my shady patio, so if it works there…it's likely to work in any pot during Autumn, Spring or Summer.
Preparing the plant will only take a few minutes.
Take a large clove of garlic with the peel still on it.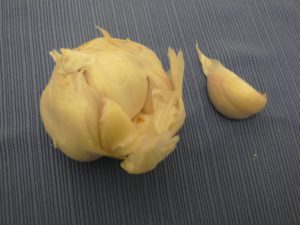 Put it in the soil with the pointy end up, and then cover with just ½ inch of soil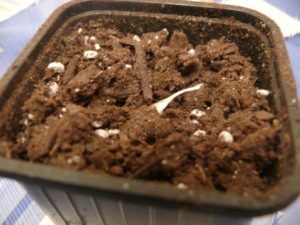 Water…and watch!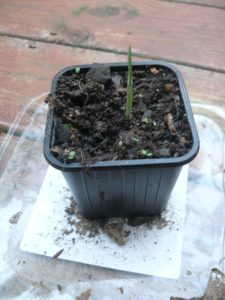 This is at 3 weeks.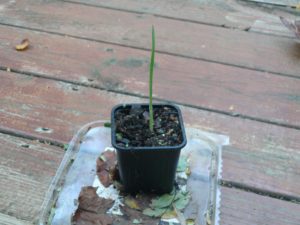 Let me know how it goes for you. And if you actually want to grow garlic bulbs itself and not just the shoots, you want to plant it deeper if it's going to make it through the winter.
And a special bonus–sprouted garlic seems to have even more antioxidants than regular garlic.
Low FODMAP diet research
Last, but not least, there's been some interesting research out. A new study suggests that a fecal bacterial test may indicate who will benefit from a low FODMAP diet. The results seem to indicate that people with more normal gut dysbiosis profiles were more likely to have benefit on the diet.It'll be interesting to see how this testing evolves!
Is it the gluten, or something else? A new study is out that suggests that gluten may not be the trigger for gluten sensitivity, but proteins known as ATI, or amylase-trypsin inhibitors may be responsible for much of the inflammatory response that people have attributed to gluten. Bottom line, if wheat bothers you, you may not care whether it's the gluten, the ATI or the fructans in wheat, but understanding the problem may be instrumental in developing medications in the future.
Is it gas, or something else? Another recent article investigates why the low FODMAP diet causes symptom relief for some, and they suggest that the cause discomfort with IBS may be something known as visceral hypersensitivity. They suggest that they amount of gas production is the same for people who are FODMAP sensitive and those who aren't, and that people experience more discomfort because they are more sensitive to distension, and so they experience a greater level of discomfort than someone else with the same amount of distension. More to come…
Harris Whole Health offers individual sessions and group classes to help people eat healthier and feel better! Cheryl works with people to feel and look their best with a range of specialties, including Celiac Disease, food allergies, pregnancy, breastfeeding, vegetarian and vegan diets, promoting great health and "whole foods" eating. Let's get you on your way to achieving your goals. For an appointment with Cheryl Harris, Registered Dietitian and Nutritionist, please click here, email or call 571-271-8742.