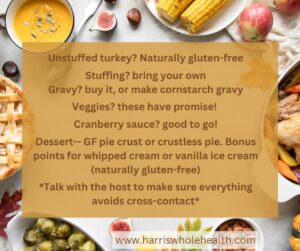 How…did November fly by so fast?
Thanksgiving is almost here, so this is just a mini-newsletter.
Here are some of the latest roundups of recipes & tips:
Looking for something FODMAP friendly?
Sweets & treats here (gluten-free too, of course)
Wishing you and yours a wonderful holiday.
Cheryl Harris, MPH, RD is a Registered Dietitian Nutritionist and Certified Wellcoach working with clients in VA, DC & MD.  She helps people with a range of digestive, including Celiac, IBS, Crohn's, UC, gastroparesis, EDS, POTS & more. Let's get you on your way to achieving your goals and feeling great!  Email or call 571-271-8742.