I hope you're having a cozy December! I've collected a list of NATURALLY gluten-free desserts—tried and true recipes that aren't specialty cooking, but just happen to be marvelously, naturally gluten-free.
Remember, these foods are only GF if you use GF ingredients. And as always, check labels to avoid surprises. A surprising number of chocolates may contain traces of gluten, including Lindt, Ghiradelli, Godiva and many of the Trader Joe's options. I've got lists of chocolates listed gluten-free here and here.
This list has a range of options, from allergy-friendly, grain-free, low sugar to completely decadent options. Your call! There are enough options to choose from that you can surely find something that works for your lifestyle/food restrictions that you and your family can enjoy together.
Low FODMAP? I've italicized recipes that are FODMAP friendly, and or easy to adapt and I have a longer list of low FODMAP holiday treats here. Remember, portions matter.
Candied orange peel (DF, EF, SF, NF)
Caramelized bananas or Bananas Foster
Candy canes! Dipped in (dairy free) chocolate or plain (DF, EF, NF)
Chocolate mousse (NF)
Christmas pudding/plum pudding
Crème brulee (NF)
Cheesecake-use any gf cookie crumbs for the crust, or do a crustless cheesecake (NF)
Chocolates: make your own with a mold or buy
Clementines (DF, EF, NF) Of course, they're more festive when dipped in chocolate 😉
Clementine cake (DF)
Custard (NF)
Dessert soufflé
Dried fruit (DF, EF, NF)
Divinity (DF, NF)
Flan
Fondue, using chocolate and a variety of fruit and GF cookies (DF*, EF, NF)
Fruit crisp (any gf flour or quinoa flakes for topping) (DF, EF)
Fruit and whipped cream (EF, SF, NF)
Fudge (EF)
Gelato
Hard candies (DF*, NF*)
Hot chocolate–or hot vanilla! (EF, NF)
Ice cream/frozen yogurt (check labels, especially for malt!)
Jello (DF, EF, NF)
Macaroons
Mango with sticky rice (DF, EF, NF)
Marshmallows (DF, NF)
Marzipan (some say glucose derived from wheat, so beware)
Meringue cookies (DF, SF, NF)
Mint Chocolate Egg cream (DF, EF, SF, NF) and low FODMAP
Nut or seed brittle (DF*, EF)
Panna Cotta (EF)
Pavlova (meringue cake) (DF)
Peanut butter cookies (DF) or a nut free, sunbutter cookies
Peanut Butter Fudge (DF, EF, SF)
Poached pears (DF, EF, SF, NF)
Popcorn clusters or caramel corn (EF)
Popcorn cake (EF)
Pralines<–this version is dairy free (EF)
Pumpkin seeds (DF, EF, SF, NF)
Pudding
Pudding pie with almond or cookie crumble crust
Rice pudding ( EF, NF)
Rice krispie bars using puffed rice (EF)
Roasted chestnuts. (DF, EF, SF) Not quite dessert, but an amazingly seasonal yummy snack.
Sorbet (DF, EF)
Toffee (EF)
Truffles (EF)
Watermelon (DF, SF, EF, NF)
Zabaglione
Italicized=low fodmap (watch portions) dairy free (DF), egg free (EF) and soy free (SF), NF (nut free) *=check labels
The Washington Post even has a  "Cookie Generator" with a gluten-free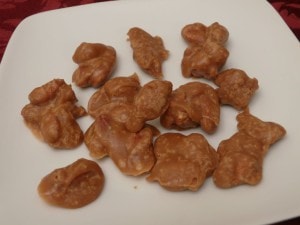 option. Of course, you need to make sure the ingredients are be mindful of cross contamination, etc. but this is an easy way to keep traditions without venturing into specialty flours and unfamiliar territory.
My personal favorites? My Bittersweet Chestnut Fudge and my Vegan Pralines.
And for my low FODMAP friends, more recipes here: a round-up of low FODMAP holiday desserts. Just watch the portion sizes.
Oh, right, and there's holiday food, too. I've got a G-Free Turkey and Ham list.
And along those lines, I've got some of my  favorite tips for a balanced and delicious holiday season here.
More recipes from around the web:
Wishing you a peaceful & joyful season!
Cheryl Harris, MPH, RD is a Registered Dietitian Nutritionist and Certified Wellcoach in Fairfax, VA.  She helps people with a range of dietary issues, including Celiac Disease, digestive issues, preventing diseases and "whole foods" eating. Let's get you on your way to achieving your goals and feeling great!  Email or call 571-271-8742.