In honor of Celiac disease awareness month, I'm highlighting a few of my favorite things—including info on jicama and info (and a coupon!) for the 2015 Washington D.C. Gluten-Free Expo, which is coming up in June.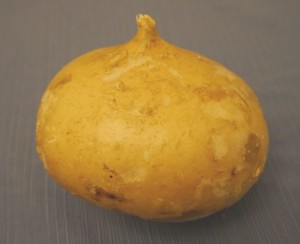 Jicama is one of my favorite raw veggies, and it often flies under the radar. It's common in Texas and Central America, and always seems to make an appearance around Cinco de Mayo, although you can often find them year-round in Central American or Asian Markets. It's a tuber and kinda funny looking, but don't be fooled…inside is a crunchy, juicy veggie, which is perfect for scooping up dip. You can also slice it thinly with a mandolin and it makes a naturally gluten-free wrap. I love it for t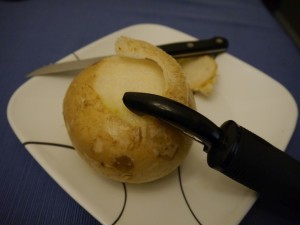 he taste, but also appreciate that it's a great source of fiber, which most people are lacking on a gluten-free diet.
So…get a jicama without blemishes or soft spots. Refrigerate it after buying if you're not going to use right away. Cut off the top and bottom, so it sits flat, and then peel it like you would an apple…
And slice!
Jicama is great with lime, salsa, or guac.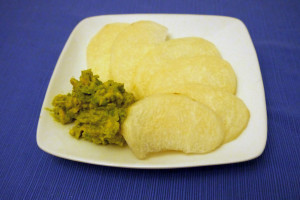 You're welcome.
And while we're on the topic of Cinco de Mayo and great things to dip with jicama, I'd recommend on of my very favorite recipes–Salsa-mole–a cross between salsa and guacamole, of course.
2015 Washington D.C. Gluten-Free Expo:
June 7th, 2015 is the annual DC Gluten-free Expo at the Doubletree Bethesda Hotel. The Expo benefits the Children's National Medical Center Celiac Disease Program in DC. Personally, I think it's a great program and a wonderful cause, and I really appreciate how much CNMC has done to provide comprehensive, integrative care for children, teens and their families with Celiac disease in the DC Metro Area. Or, of course, you could go to the Expo because you get a ton of yummy food and free samples. Your call!
Join Children's National Health System's Celiac Disease Program for the 2015 Washington D.C. Gluten-Free Expo on June 7, 2015 at the
The Expo will feature an exhibit hall with more than 70 gluten-free vendors from across the globe! Each vendor will provide samples and/or sell their products. In some cases, the vendors will offer large discounts to purchase products at the event.
Cheryl's note: this is not a sponsored post from CNMC and I have no vested interest, financial or otherwise. I'm just a fan of the Celiac programs at CNMC.
Quick odds and ends: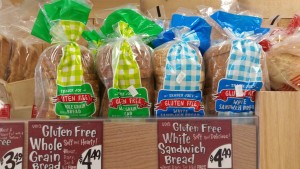 Trader Joe's now carries fresh(!!!) gluten-free breads. This pic is from the Fairfax store, and it's cheaper than most GF breads.
NY Times just had an article on new drug therapies for Celiac and non-Celiac gluten sensitivity.
NFCA has a new campaign about talking to family members about Celiac disease.
Care2 just featured some of my suggestions for G-free family meals
Harris Whole Health offers individual sessions and group classes to help people eat healthier and feel better! Cheryl works with people to feel and look their best with a range of specialties, including Celiac Disease, food allergies, pregnancy, breastfeeding, vegetarian and vegan diets, preventing diseases and "whole foods" eating. Let's get you on your way to achieving your goals. For an appointment with Cheryl Harris, Registered Dietitian and Nutritionist, please click here, email or call 571-271-8742