Happy almost Halloween!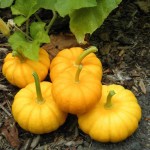 First things first: if you're getting Halloween candy, make sure you're checking the gluten-free status. Many brands that are typically gluten-free have special versions of holiday candy with different ingredients, which can include gluten, or other allergens.Celiac Disease Foundation has a great list with gluten and other allergen info listed.
Simply Gluten-free has a list of candy out, too.
But…maybe it's time to go the non-candy treat route instead? I'm a fan, and I've been doing it for years. We give away slinkies,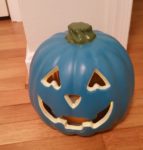 rubber duckies, and other fun toy assortments. Less temptation, of course, but great for kids (or parents) with Celiac or food allergies, too. If you decide to go the non-food-treat option, Food Allergy Resource & Education (FARE) launched the Teal Pumpkin Project. It now has an interactive map so that children with food restrictions can find safe houses to visit and you can add your house to the map so children and parents know that safe options are available.
News:
Some of you know I've long been concerned about the reports of contamination issues in Cheerios. The Canadian Celiac Association just announced a decision by the  Canadian Food Inspection Agency that by Jan 2018, the words "gluten-free" must be removed from boxes of Cheerios sold in Canada. Per the release: "Based on the advice of the members of our Professional Advisory Board, the experts of the Gluten-Free Certification Program, and other professionals working in the field, we believe that there is not adequate evidence to support the claim. When added to many reports from consumers with Celiac disease reacting to eating the cereal, we believe this is the safe recommendation for Canadians."
My take: there is no indication that the FDA will take a similar step. However, I am hopeful this will push General Mills to take additional steps for safety and monitoring to ensure that their cereals are labeled accurately and appropriately.
A new study suggests that there's a test on the horizon sensitive enough to detect Celiac accurately, even if gluten was consumed one time. This should make diagnosis much easier, and reduce the need for a long gluten challenge when this test is available.
Fall recipes:
One of the things I love most about autumn is the beauty of the leaves.  The food is a close second! Here are some of my favorites:
Cheryl Harris, MPH, RD is a Registered Dietitian Nutritionist and Certified Wellcoach in Fairfax VA.  She helps people with a range of dietary issues, including Celiac Disease, GI issues, food allergies, pregnancy, breastfeeding, vegetarian and vegan diets, preventing diseases and "whole foods" eating. Let's get you on your way to achieving your goals and feeling great!  Email or call 571-271-8742.