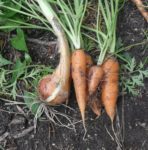 For many people, getting in more veggies is a big plus for good health. If it's been a struggle, you may want to dress up your options, and/or head to a local farmers' market for inspiration. It can also be fun to stop at a local community garden. I know I've got a bunch of beautiful things growing in my garden!
Here are some easy, quick, veggie-rich trades for traditional carby sides: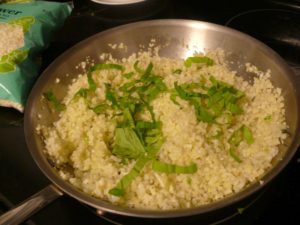 Cauliflower rice: You can buy bags of pre-chopped little pieces of cauliflower that are the consistency of rice, but with a ton more nutrients. It has a pretty neutral flavor, and takes on the taste of the rest of the dish. Bonus–it only takes 15 minutes to cook on the stovetop.
Zoodles (AKA zucchini noodles)—or similar carrot, sweet potato or beet noodles. You can buy them at many stores, or make them yourself with a spiralizer. These make a great swap for pasta noodles, and can be fun to make, too. Dress them up the "noodles" with herbs & you're good to go.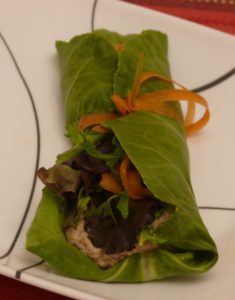 Collard (or Swiss chard) wraps–upgrade your wrap; consider using a collard leaf.
Quick, simple, delicious. Cut it in half, rub with olive oil, roast. Done. Then you can scrape up the "noodles" and enjoy as a side to your favorite dish.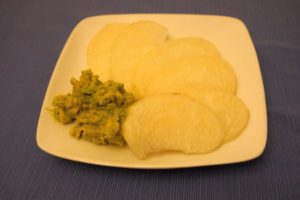 Jicama: ever had jicama? More on how to peel and cut them here. This crisp root veggie has all sorts of health prebiotics, and more nutrients than a bowl of tortilla chips. It's a great swap for dipping your salsa or guac.
Take a portabella mushroom, top with sauce & cheese & you've got a mini pizza right there!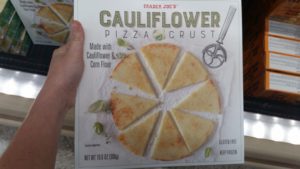 Cauliflower pizza crust:
I've only heard good things about this new crust from Trader Joe's–and you can easily top with your favorites to suit you taste.
For those of you with tummy troubles who are getting indigestion just looking at these veggie recipes, spaghetti squash and carrot noodles are good options. Also, I just posted an updated list of low FODMAP shopping guide.
I'm sure I'm missing some of your favorites. Feel free to leave me a comment on this post.
Cheryl Harris, MPH, RD is a Registered Dietitian Nutritionist and Certified Wellcoach in Fairfax VA.  She helps people with a range of dietary issues, including Celiac Disease, GI issues, food allergies, pregnancy, breastfeeding, vegetarian and vegan diets, preventing diseases and "whole foods" eating. Let's get you on your way to achieving your goals and feeling great!  Email or call 571-271-8742.