Wednesday, December 10th, 2014
Holiday G-Free Dessert Recipes
Wow, December has really flown by, and it's so easy to get swept away sometimes in the holiday swirl.
For many people, the holiday season is one of the most challenging times to be gluten-free. I've highlighted some of my favorite tips for staying SANE and gluten-free here from Simply Gluten-Free Magazine. 
Of course, this time of year is pretty much  about desserts, yes? Some of us aren't all about mixing 5 different gluten-free flours and whipping out the xantham gum. I've collected a list of NATURALLY gluten-free desserts over the years—tried and true recipes that aren't specialty cooking, but just happen to be marvelously gluten-free.
Remember, these foods are only GF if you use GF ingredients. And as always, check labels to avoid surprises.
There's a range of allergy-friendly, grain-free, low sugar and completely decadent options, but there are enough options to choose from that you can surely find something that works for your lifestyle/food restrictions that you and your family can enjoy together.

Caramelized bananas or Bananas Foster
Candy canes! Dipped in (dairy free) chocolate or plain (DF, EF, NF)
Chocolate mousse (NF)
Christmas pudding/plum pudding
Crème brulee (NF)
Cheesecake-use any gf cookie crumbs for the crust, or do a crustless cheesecake (NF)
Chocolates: make your own with a mold or buy
Clementines (DF, EF, NF)
Clementine cake (DF)
Custard (NF)
Dessert soufflé
Dried fruit (DF, EF, NF)
Divinity (DF, NF)
Flan
Fondue, using chocolate and a variety of fruit and GF cookies (DF*, EF, NF)
Fruit crisp (any gf flour or quinoa flakes for topping) (DF, EF)
Fruit and whipped cream (EF, SF, NF)
Fudge (EF)
Gelato
Hard candies (DF*, NF*)
Hot chocolate (EF, NF)
Ice cream/frozen yogurt (check labels!)
Jello (DF, EF, NF)
Macaroons
Mango with sticky rice (DF, EF, NF)
Marshmallows (DF, NF)
Meringue cookies (DF, SF, NF)
Marzipan (some say glucose derived from wheat, so beware)
Nut or seed brittle (DF*, EF)
Panna Cotta (EF)
Pavlova (meringue cake) (DF)
Peanut butter cookies (DF) or a nut free, sunbutter cookies
Poached pears (DF, EF, SF, NF)
Popcorn clusters or caramel corn (EF)
Popcorn cake (EF)
Pumpkin seeds (DF, EF, SF, NF)
Pudding
Pudding pie with almond or cookie crumble crust
Rice pudding ( EF, NF)
Rice krispie bars using puffed rice or gluten-free rice Krispies (EF)
Roasted chestnuts. (DF, EF, SF) Not quite dessert, but an amazingly seasonal yummy snack.
Sorbet (DF, EF)
Toffee (EF)
Truffles (EF)
Watermelon (DF, SF, EF, NF)
Zabaglione
dairy free (DF), egg free (EF) and soy free (SF), NF (nut free) *=check labels
Not that these are healthy by any stretch of the imagination, BUT Martha Stewart has a slideshow and recipes of 40 holiday candies, all of which (at a quick glance) are GF. Of course, you need to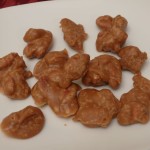 make sure the chocolate is GF, be mindful of cross contamination, etc. but this is an easy way to keep traditions without venturing into specialty flours and unfamiliar territory.
My personal favorites? My Bittersweet Chestnut Fudge and my Vegan Pralines.
Oh, right, and there's holiday food, too. I've got a G-Free Turkey and Ham list for 2014.
More recipes from around the web:
Giveaway
'Tis the season of giving, right? I've always gotten a kick out of the sample boxes because it's always fun to see what's new and tasty in the gluten-free world. So when Taste Guru offered to give away a box to newsletter readers, I happily agreed. Taste Guru has monthly gluten-free boxes with a variety of samples. Mine had coupons and a magazine. The products change every month, and you can *ahem* give them as gifts as well if you're still looking.
When I got my box, I was drawn to the Justin's samples and my husband was intrigued by the bacon jam. Yes…I indeed said bacon jam. Houdini cat, on the other hand, decided to play in the box while I was trying to take pictures, proving that everything on the internet is better when you add a cat.
If you'd like to enter to win a free monthly box from Taste Guru
Contest ends Dec 24th, 2014, 12pm EST and a winner of the free box will be chosen at random. Your box will likely be different than the one I receive. While I did receive a free box (correction: I got the goodies, Hou commandeered the box) I was not compensated for this review/giveaway.
Local Events & News:
Harris Whole Health offers individual sessions and group classes to help people eat healthier and feel better! Cheryl works with people to feel and look their best with a range of specialties, including Celiac Disease, food allergies, pregnancy, breastfeeding, vegetarian and vegan diets, preventing diseases and "whole foods" eating. Let's get you on your way to achieving your goals. For an appointment with Cheryl Harris, Registered Dietitian and Nutritionist, please click here, email or call 571-271-8742.
Topics:
Newsletters
|

Email This News Item