Tuesday, May 14th, 2013
I'm a huge fan of naturally gluten-free food. It's usually healthier, usually cheaper, and IMHO, usually tastier, too. There are so many ways to go g-free quick and easy, and I highlighted a bunch in last month's newsletter, with tips from a variety of gluten-free bloggers.
And yet…there are so many reasons packaged foods do come in handy from time to time, whether it's because of job demands, travel, outdoor activities that prevent easy access or you just need to have something shelf-stable and portable in the car in case of emergency.
So…in honor of Celiac Disease Awareness month, I've put together a list of healthier options among packaged products, with an eye out towards ones that are lower in sugar, higher in fiber and protein, and less processed.
Obviously, you don't want to forget naturally gluten-free options, too!
Quick meal options
Frozen:
Veggie Burgers:
Shelf-stable options:
Certified g-free oatmeal—many brands are tested: Glutenfreeda, Bob's Red Mill, Cream Hill Estates, Holly's Oatmeal and more
CookSimple® has a variety of boxed meals (some gluten-free, some not)
GoPicnic® has pre-packed meals that are shelf-stable
St. Dafour® has tinned meals (some gluten-free, some not)
Soups!
Breakfast:
Breads: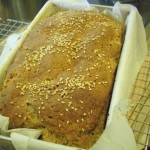 Ah, the task of finding a g-free bread with fiber. Try these:
Companies that offer sample boxes
 All products are gluten-free per the manufacturer's claim. Always double check labels, because products do change. Some do contain other allergens.
Cheryl Harris, MPH, RD is a Registered Dietitian, Nutritionist and Certified Wellcoach in Fairfax & Alexandria, VA.  She helps people with a range of dietary issues , including Celiac Disease, GI issues,  food allergies, pregnancy, breastfeeding, vegetarian and vegan diets, preventing diseases and "whole foods" eating. Let's get you on your way to achieving your goals and feeling great!  Email or call 571-271-8742.
Topics:
Newsletters
|

Email This News Item