Baked goods are a way of saying "I love you" in our house. When my husband and I started dating a little more than 20 years ago, I (literally) worked in a bakery, and muffins meant gobs of sugar and flour. How times change. These muffins are yummy, whole food, gluten/dairy/soy-free and easy, which is key. One per serving is low FODMAP, and they have 3 grams of fiber per muffin. Best of all, they are delicious and disappear quickly, but they are best within 3 days.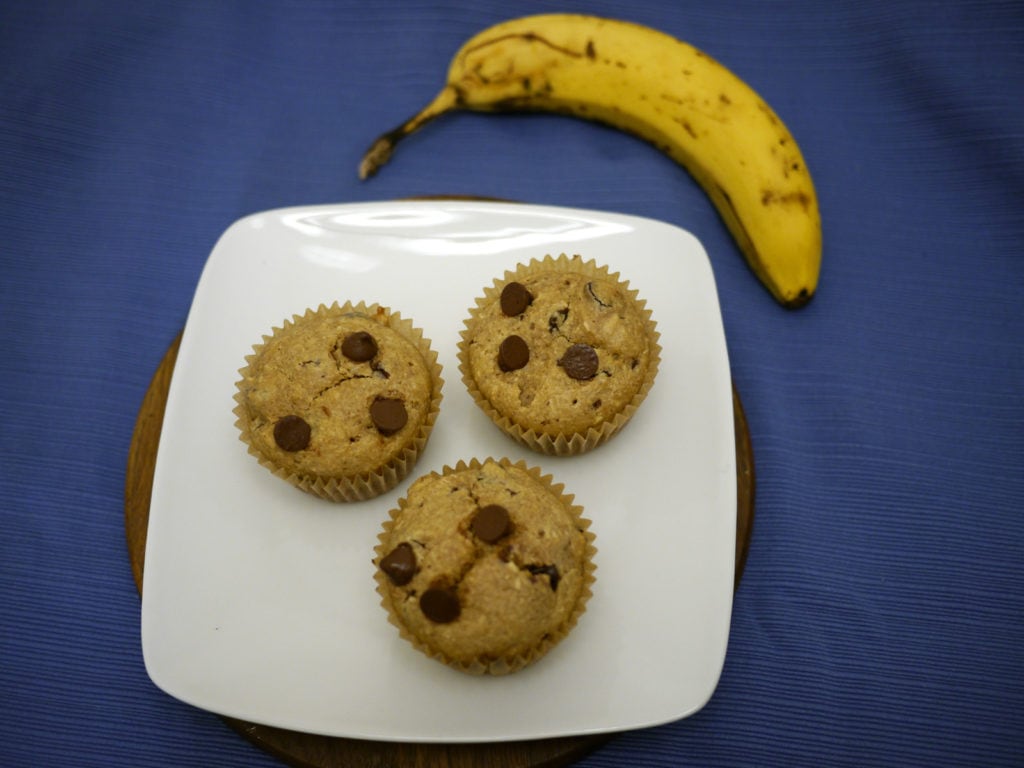 Pumpkin pie spice and maple give these babies the perfect flavors for this season.
Ingredients:
1 cup old fashioned rolled oats, purity protocol if needed to stay strictly GF
1 egg
1 browning banana
1/4 cup pure maple syrup
Generous 1/4 cup regular peanut butter (not a natural PB which is separated)
2 TBSPs shredded dried unsweetened coconut
2 tsp vanilla extract
½ tsp pumpkin pie spice or cinnamon (go for the pie spice, live dangerously)
¾ teaspoon baking powder
pinch salt
1/4 cup + 1 TBSP dark chocolate chips
Makes 6 muffins
Directions:
Preheat oven to 350.
Food processor: Grind the oats in a food processor for one minute. Combine ingredients except chocolate chips in food processor or blender until you have a smooth mixture, ~2-3 min. Ones there is a combined, homogeneous mixture, add in chocolate chips and coconut flakes and pulse a few times.
High powered blender (Vitamx, etc): Add all ingredients except chocolate chips and coconut and blend on high until a smooth mixture forms, ~1 min. Stir in chocolate chips and coconut flakes.
Pour the batter into muffin cups so that each is mostly full. Decorate with remaining chocolate chips. Put in the oven and cook for ~20 minutes, or until light golden brown on top and a toothpick comes out clean.
1 muffin is low FODMAP and fine on the elimination phase. 1/3 of a ripe banana is allowed at serving during the elimination, so that's well under.
Nutrition: Approx 250 cal, 5 grams protein, 3 grams fiber