Ch ch ch chia! While many of us remember the commercials, few of us suspected that we'd ever eat chia, or how nutritious and tasty it can be.
Some recipes use chia as the primary flour, others use it as a binder or an egg replacer. Chia seeds are generally sold two ways: whole and ground. Whole seed are easy to grind into a meal in a coffee grinder, blender or with a mortar and pestle. For a recipe with texture, like cookies, muffins or breads with nuts, seeds, etc., whole seeds will work. Ground chia works better for cakes, brownies, and less textured baked goods. Chia seeds ground finely to a powder can be used as a thickener for puddings and other silky smooth recipes.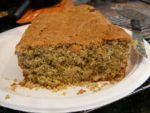 Chia is wonderful for gluten free baking, because it is an excellent binder and thickener. It can be used in many recipes that call for ground flax seed, but it's a good idea to use 2/3 as much because it is a more powerful binder. The amount needed may depend on the recipe, and might take a little trial and error. A small amount of chia can also replace xantham or guar gum. For most recipes, ¼ to ½ teaspoon of ground chia can serve as a binder.
Chia is also a great addition to egg free or vegan baking. Rather than using the standard flax "goop" of ground flax seeds and water, replace it with ½ of the amount of ground chia seeds.
So for a flax egg, an "egg"=1 TBSP ground with 3 TBSP water
For a chia egg, an "egg"=2 tsp ground chia with 3 TBSP water

The seeds should be added to the liquid ingredients, like water, milk, juice, etc. and allowed to sit until it forms a gel, which takes about 20 minutes. Extra chia gel can be stored in the refrigerator and will keep for a week or more.
Chia seeds can also be used to bind burgers, meatloaf, meatballs, etc. instead of egg and breadcrumbs. To replace an egg, use ¼ cup of water with 1 teaspoon ground chia, or 1.5 teaspoons whole chia seeds.
Quick and easy ways of using chia seeds include adding them to a salad, yogurt or hot cereal, adding them to a smoothie or sprinkling whole seeds onto a loaf of bread or crackers before baking,
Several websites have recipes to get you started:
http://nuchiafoods.com/recipes/ has recipes using chia flour as the primary ingredient
http://www.gfgoodness.com my cooking blog, uses chia as a binder and egg replacer
Here are sites with chia recipes (not all are gluten free):
http://dietdessertndogs.wordpress.com/
http://www.chiaseedandoil.com/recipes/recipes.html
Cheryl Harris is a Registered Dietitian and nutritionist in Alexandria, VA providing nutrition session and classes on Celiac disease and other food intolerances.  She considers herself incredibly lucky, because she loves her work and the chance to help others enjoy healthy and safe foods, even with food restrictions. For more information on Cheryl and many gluten free resources, see www.harriswholehealth.com.