We are absolutely in the middle of eating season 2021!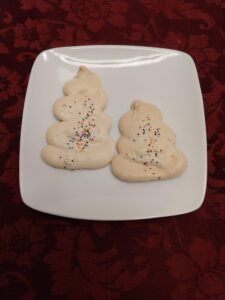 Here's just a quick update of some gluten-free goodness:
I have a looong list of naturally gluten-free holiday desserts, because there's no way to improve on the perfection of some classics.
The Washington post shared an article with 7 gluten-free cookies
Here's a long list of low FODMAP desserts (all gluten and lactose free)
And because people often ask, what are we making this year? Well, thus far, gifts have been
Toasted Sugar Almond and Hazelnut Meringues, above, (using this recipe and toasted sugar instead of regular), and dairy free hot cocoa mix, and crème brulee with the leftover yolks. Brownie cookies with Jules GF flour are on the line up, and toffee (minus the chocolate) ships well as a gift…
Research—
Oh, the irony. A study on mice shows that a high fat, high sugar diet can cause a partially reversible condition like Inflammatory Bowel Disease
A new study shows that many people with Celiac–up to 1-in-2 have ongoing GI problems despite being on a strict gluten-free diet. These digestive problems can lead  to both physical and emotional issues, so treating them is key. Hopefully this awareness leads to better treatment and taking concerns of patients more seriously.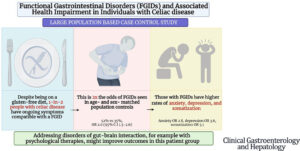 People who are food insecure with Celiac have trouble following a gluten-free diet. This is a no-brainer, but this is also the 1st study of its kind, so it IS a big deal. The authors estimated ~16% of people with Celiac were food insecure when the study was done, which was BEFORE the pandemic. The stats have likely changed for the worse. If this is an issue you are concerned with, the Gluten Intolerance Group just launched a non-profit to address food insecurity called GIG Cares.
Are you low FODMAP? Some of you know how I've always talked about how the fruit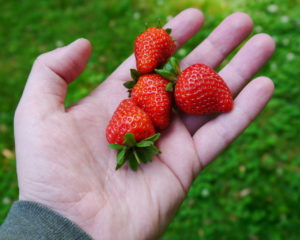 portions in the Monash app just don't jive with what I've found with clients. Well…the Monash app is changing and revising their portions down for strawberries and grapes, to only 6(!!!) grapes and just 4 medium strawberries for the elimination. Which, to me, means that sometimes clients experience (when heard over and over and over) can be as valuable as the info that we get from the machines. But I'm assuming most of you already know that. ?
Wishing peace, happiness and health to you and those you love through this holiday season and beyond, and hoping next year is your best yet!
Cheryl Harris, MPH, RD is a Registered Dietitian Nutritionist and Certified Wellcoach in Fairfax, VA.  She helps people with a range of dietary issues, including Celiac Disease, digestive issues, preventing diseases and "whole foods" eating. Let's get you on your way to achieving your goals and feeling great!  Email or call 571-271-8742.