Last updated July 2023

Happy Celiac Disease Awareness Month!
I'm a huge fan of naturally gluten-free food. It's usually healthier, usually cheaper, and IMHO, often tastier, too. That's especially this this time of year, when we can start to get locally grown veggies and fruit. I've got a list of local NoVA/DC/MD Farmers' markets here.
And yet…there are so many reasons packaged foods do absolutely come in handy from time to time, whether it's because of job demands, travel, or you just need to have something shelf-stable and portable in the car in case of emergency.
I've put together a updated list of some of my favorite healthier options among packaged products, with an eye out towards ones that are lower in sugar, higher in fiber and protein, and on the less processed end of the spectrum. I've noted which are GF certified, Kosher certified or vegan, according to the manufacturer's claims, and I always encourage you to double-check, because ingredients and processing protocols change.
Clif Mojo Bars (only some Clif bars are gluten-free–grab carefully)
Caveman Bars® Certified GF
Epic bars® Certified GF
Go Macro Bars Certified GF,  many are FODMAP friendly. I like the minis!
Go Raw Sprouted-organic, vegan, nut free
Kind bars® (certified Kosher)
Larabars®(vegan, Kosher) I'm particularly jazzed about the Larabar minis!
Lupii bars– vegan, really high in fiber and protein, certified GF
NuGo bars®-(Kosher) Certified GF, some allergen friendly
Perfect bars® (Kosher)
Rx Bars  Kosher
Rise bars® (Kosher), some are vegan
Thunderbird  Certified GF, vegan
Zingbars®-–Certified GF, vegan, Kosher
What do I consider a healthier gluten-free bar? In a nutshell, mostly ingredients your grandmother would recognize, enough protein and fiber to keep you fueled, and of course, gluten-free. These bars also avoid artificial sweeteners and soy protein isolate.
Snacks: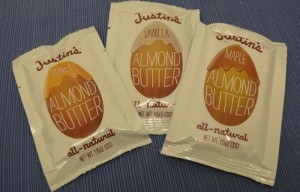 Boomchickapop–popcorn, but certified GF & w/ all sorts of fun flavors
Bhuja Snacks®–Certified GF
Chickpeatos— (certified Kosher) I've seen these in Whole Foods in Alexandria & I love the rosemary ones!
Go Raw–Sprouted pumpkin, sunflower, mixed or spiced seeds (certified GF, organic, kosher)
Hail Merry's®-Certified GF, Kosher

Justin's nut butters-–Certified GF, Kosher (Vanilla almond is my personal fave!)
Mary's Gone Crackers® –Certified GF, Kosher

Nuts.com® (many options are certified GF, READ ALL INGREDIENTS! they do also sell products with wheat, produced in a different factory)
The Good Bean Roasted Chickpeas–Certified GF
Quick meal options
Soups & etc.
Frozen: In the NoVA area, you can generally find these at MOM's, Wegman's, Whole Foods and Earth Fare
Shelf-stable options:
Cereals: (other great breakfast options here)
Breads:
Ah, the task of finding a g-free bread with enough fiber. Try these: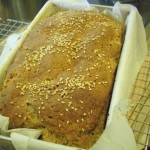 Did I leave out one of your favorites? Leave me a note in the comments.
Cheryl Harris, MPH, RD is a Registered Dietitian Nutritionist and Certified Wellcoach in Fairfax VA and currently, remotely.  She helps people with a range of dietary issues, including Celiac Disease, all sorts of GI issues and more.  Let's get you on your way to achieving your goals and feeling great!  Email or call 571-271-8742.