A fun and healthier Halloween, Fall recipes & more
Think outside the candy dish….
When I first told my husband we weren't giving out candy for Halloween, he thought I had thoroughly lost my mind. I certainly didn't want our house to be one of those places that kids complain about, but I figured a few yo-yos or rubber duckies might be a nice change from 101 mini-chocolate bars. Besides, I knew too well that having all the candy around was a temptation that I just didn't need or want. I was a little nervous about my decision, until my first trick-or-treater ran back to his dad and said, "Cool! A slinky!" That was 8 years ago, and it went better than I could have imagined. One year, a group
of girls even told my husband that she looked forward to the "rubber ducky house" every year.  Somehow, I resisted the opportunity to say I told you so.
There are plenty of good options for stickers, toys, rubber duckies, mini games or even temporary tattoos for children you know well. Oriental Trading Company has a wide selection. Another easily available non-food option is mini cans of Play-Doh, (g-free peeps, remember that Play Doh has gluten, so if you play, wash your hands very, very, very thoroughly!) Some are more expensive than candy, but it depends on how you look at it. When you average in the bag of candy you bought on sale in September (and ate), the one in mid-October (trust me, that one will disappear as well) and the one you have to run out at the last minute and buy, it evens out in the end.
Of course I have great memories eating excessive quantities of candy on Halloween as a little kid. There's nothing wrong with that on occasion. I'm a fan of eating treats when I really, really want them and will enjoy them, not eating treats because they're sitting right in front of me and then *poof* where'd they go? There are also healthier treats, like mini Larabars and mini Kind Bars, all fruit leathers, mini-packs of pistachio nuts, etc.
Fall recipes:
One of the things I love most about autumn is the beauty of the leaves. The food is a close second! Here are some of my favorites:
Butternut Squash Bisque: The tastiest way to get vitamin A! A wonderful soup for the fall or winter. Allergen friendly with a dairy free option.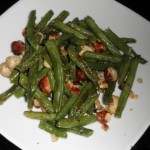 Hot Mulled Apple Drink: a favorite at our annual pumpkin carving party. It's the perfect drink for a crisp autumn day.
Pumpkin Seeds: several variations on this classic snack.
Roasted Green Beans: So easy to get green beans this time of year. Yum yum yum!
Classes:
I'm eating a class on Mindful Eating for Dietitian Central on Oct 9 at 3pm EST. It's aimed at health professionals, but it open to anyone interested.