For many people, summertime is filled with picnics, outdoor adventures and travel. With a little planning, you can make sure to have fun and take care of your health, too.
Picnics and cookouts tend to work well for a gluten free diet. Most grilled foods, like burgers, hot dogs, chicken breasts, etc. are gluten free in the regular grocery store, so you can coordinate with your host and ask about any marinades, or just bring your own food to grill. For vegetarians, Portabella mushrooms and veggie skewers work well. If they're grilling buns, marinated meat, or anything else 'glutenous' in the same area, bring along aluminum foil to wrap your food and keep it safe from cross contamination. Just bring along your own bun, or in a pinch, use a lettuce leaf as a wrapper. It helps to carry a few little packets of condiments, in case there aren't squeeze bottles of mayo or mustard. Green salads, fruit salads and watermelon are usually on the menu, and don't forget grilled corn as a yummy treat! Ice cream, popsicles and frozen fruit bars are often GF, though it's important to check the label. Since these events are often potlucks, it's easy to bring along a safe dish that you'll enjoy.
For out of town travel, it helps to plan ahead. It's a good idea to pack a few meals in a carry on bag, just in case your luggage gets lost or your flight gets delayed. Good options can include GF energy bars, tuna with a pull top, dry cereal, dried fruit and nuts, baby carrots, rice cake "sandwiches", apples, fruit leather, a hard boiled egg, chocolate bars,"just add water" GF meals, etc. Remember, things with liquid aren't a good idea because of the new security laws. You can also check this resource on dining options at airports nationwide to get an idea if there's food you can grab and go.
No matter where you're headed, you can get basic GF food nearby, even if you don't have access to a kitchen. Almost every supermarket will carry some GF staples. Here's a list to get you thinking:
If you're going to be away for a while, you may want to order some GF specialty foods and have them shipped to your destination. And restaurants are getting into the act! There are many options from both national and local chains. Triumph Dining has a good national guide, Gluten Intolerance Group (GIG) has a national listing . Gluten Free Travel Site is a new site with reviews of places across the country. There's even Bob & Ruth's Gluten Free dining and travel club, which has GF travel getaways and newsletters. There are many websites with dining cards and I have a few of them listed here. You may also want to email the local Celiac association and find out where the locals go.
If you're traveling abroad, that takes more planning. Here's a link to an article with good tips
No matter what you love to do, go out and have a fabulous summer!
Local events:
The Northern VA CSA is hosting "Northern VA Celiac Forum" on Saturday, June 21, 2008 9-1pm at Inova Fairfax Hospital. There are more details here or contact Daniel at 571-289-5675
Local news:
Could it be? National's Stadium is serving GF pretzels and GF beer!
Recipe:
This recipe is quick, easy, simple, tasty and nutritious. It's one of my favorites for breakfast or a quick snack. Enjoy!
Banana Skillet Bread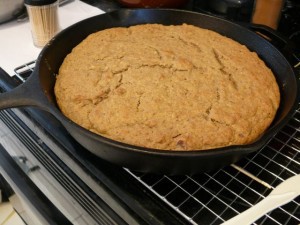 Ingredients
1 cup teff
1 cup sorghum flour
1 T mesquite flour*
1Tablespoons +1 teaspoon baking powder
1/2 teaspoon baking soda
3/4 cup hazelnuts, brazil nuts, pecans or walnuts
pinch of salt
Wet:
2 uber ripe bananas
1 level tablespoon +1 teaspoon ground flax seeds
2/3 cup maple syrup
1/2 cup coconut oil
1/2 teaspoon maple extract
1 teaspoon vanilla or almond extract
1/3 cup sparkling (bubbly) water, 'milk', or juice
Grease a 10 inch cast iron skillet with coconut oil. Preheat oven to 350.
Thoroughly mix dry ingredients together. Dump wet ingredients (not water) in a blender. Let it roll until well blended. In my vitamix, that takes less than a minute. I would assume an ordinary blender would take a few minutes. Then add in water and add wet to dry, mix until well everything is well combined, but don't overmix (i.e. no more dry stuff, but no need for a workout)
Bake for 30 minutes or until top turns a beautiful golden brown. Cool on a drying rack 5 minute, then turn out.
* if you don't have access to mesquite flour, you can just use a whole cup of sorghum or teff, and increase the amount of maple extract to 1 teaspoon, or add in an extra pinch of cinnamon to give more flavor.
~from Cheryl's kitchen ©2007
Harris Whole Health offers individual sessions, family sessions and group classes to help people eat healthier and feel better! Whether you are dealing with Celiac Disease, food allergies, picky eaters, children on the Autistic spectrum, chronic illness, or if you just want to feel and look better, Cheryl can help you achieve your goals. For an appointment with Cheryl Harris, Registered Dietitian and Nutritionist, please click here or call 571-271-8742.